EASY ELEGANCE WITH A TWIST
Hold on to your floral scrunchies, the Topsy Tail is back and far more chic than your childhood self might remember. A once popular choice among teens and young women in the mid-1990's the Topsy Tail has since seen sporadic revivals in popular culture over the last two decades, although perhaps only in recent months do we recognize the ease and elegance of this retro look and it has us feeling truly #blessed. The look has been sported by everyone from celebrities like Hailey Baldwin at Tommy Hilfiger's fall 2016 show during NYFW, to public figures like the ever-sophisticated Duchess of Cambridge.
The Aveda Institute Winnipeg's student stylist Syleena Pereira takes us back with this classic and super simple style to create effortlessly cool hair for the fall/winter season with her half-up Topsy Tail Tutorial below.
THE STEPS
Spray Aveda Texture Tonic throughout dry haie, and then blow dry to create better hold/grip.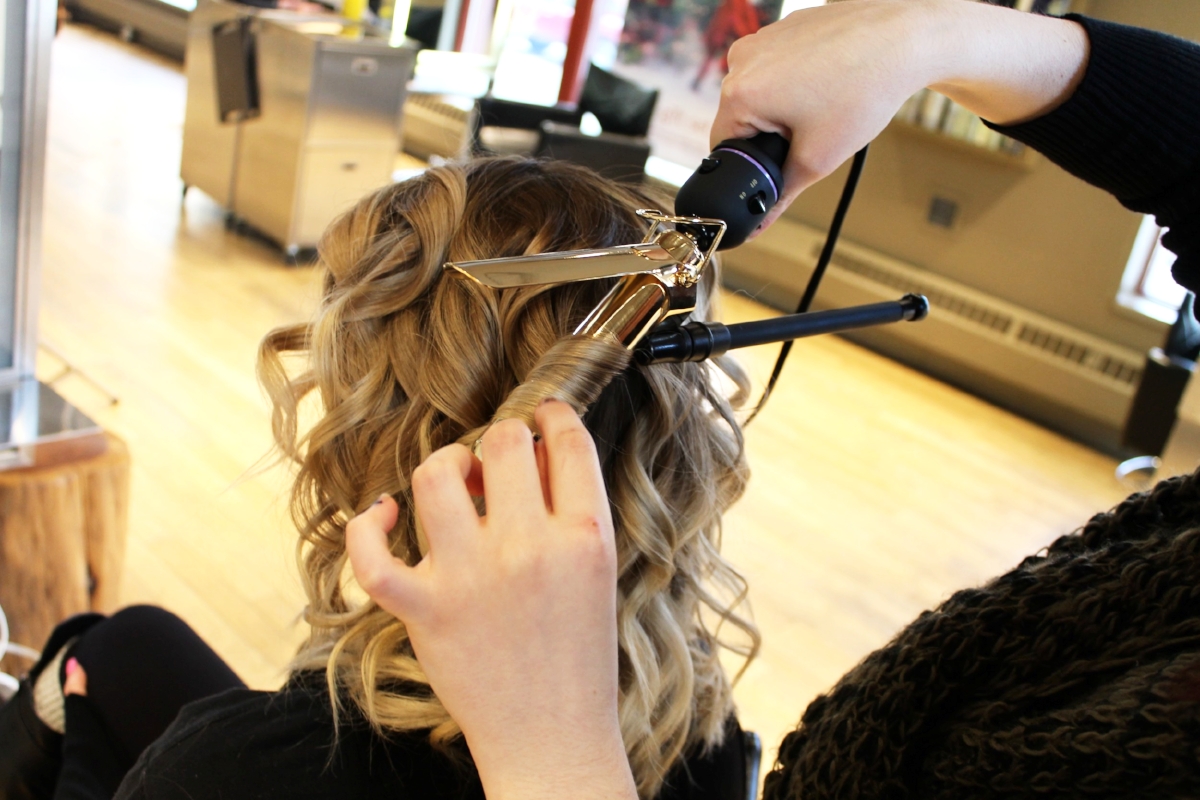 Separate hair into 2-3 inch sections horizontally across the back of the head. From those sections, take 1-inch strands of hair and wrap them around the curling iron, keeping the hair flat (like with flat iron curls).
*Don't forget to alternate the direction of curls from row to row, curl front sections away from the face, and set curls with Air Control Hair Spray!*
Grab a 2-3 inch section of hair from the crown area and secure in a ponytail with a clear elastic. Gently move the elastic down and create an opening in the hair above it with a bone comb. Slowly, lift the hair below the elastic up and out towards you, and flip it down through the hole you made with your bone comb.
Spray the entire look lightly with Air Control Hairspray for extra hold, and then wrap a 1-inch piece of hair around the elastic to conceal it.
Pin any loose pieces near the face back into the pony if necessary to refine the look.
Gently comb out the curls with your bone comb, and spray lightly with Air Control for a little extra hold!
The Products: Texture Tonic & Air Control
The Tools: ¾ inch barrel curling iron, blow dryer, sectioning clips, bone comb, bobby pins, clear elastics
"I'm a student from the April 2017 class soon to be graduating. Aveda taught me the skills I need in order to be successful without making a huge environmental impact on the world or harming innocent animals. Helping to make the world a better place is one of the reasons I chose Aveda. I have a passion for styling hair and I chose this style because it's easy to do yourself and looks elegant or messy depending on what you're going for. You can do this style on curled or straight hair, but I like it best when the curls are bouncy."
-Syleena Pereira- Aveda Institute Winnipeg
Follow Syleena on Instagram @syl_style77